Coat Care » Carr & Day & Martin Canter Coat Shine Conditioner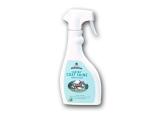 Other products by Carr & Day & Martin:
Description
Since a clean, shiny coat is paramount, this spray shines instantly as well as helping prevent irritating grass andstable stains. Ideal for use after a bath to keep them clean, or as a quick fix when time is short. Will not make the coat greasy but will add sparkle for up to 7 days.
Product variations in stock:
| Contents | Quantity |
| --- | --- |
| 500ml | 1 |
Product variations that are not in stock are generally available within a period of 1 to 3 days.
This price includes 21% VAT, possible discount and excludes delivery costs.