Coat Care » Carr & Day & Martin Dreamcoat Colour Enhancing Shampoo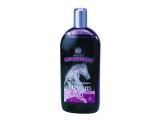 Other products by Carr & Day & Martin:
Description
Enriches and intensifies your horse's coat colour for the ultimate in equine turnout. Cleans and conditions your horse's coat to show-ring standard. Exact colour match not necessary, choose the closest shade to your horse'scoat colour and pamper your best friend. Go on... she deserves it!
Cleans and intensifies natural coat colour and sheen
Available in three colours: Jet Black, Rich Honey (for light bay/palomino) and Warm Earth (for dark bay)
Exact colour match to a horse's natural hair colour not necessary to achieve stunning results
Can be used routinely, but ideal for show preparation
Apply directly to a wet coat. Work in well with a brush or sponge or by hand to produce a rich lather, then rinse thoroughly. Results are immediate. May also be used on manes and tails
500ml will last for 5-10 washes
Key ingredients: cleaning agents, colour enhancers, optical brightners
Available in:
Colour: Dark Bay, Jet Black, Chestnut & Palomino & For Greys.
Contents: 500ml.
Product variations in stock:
| Colour | Contents | Quantity |
| --- | --- | --- |
| Dark Bay | 500ml | 1 |
| Jet Black | 500ml | 1 |
| Chestnut & Palomino | 500ml | 1 |
| For Greys | 500ml | 1 |
Product variations that are not in stock are generally available within a period of 1 to 3 days.
This price includes 21% VAT, possible discount and excludes delivery costs.