Stirrups » Wildkart J. Joker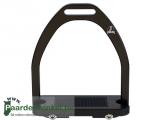 Other products by Wildkart:
Description
J. Joker stirrups stand out for the revolutionary design and the use of a material to the vanguard like the aluminium. The aluminium allows us to produce a stirrup with a maximum weight of 225 grams without compromising your security in any way.

The

J. Joker

stirrup offers a "grip" without comparisons, thanks to the special "diamond" manufacturing of the bench support area.
Both the large form and the particular grip of J. Joker give an higher sense of stability which creates an "all one"-sense with your foot.

J. Joker

stirrups are obtained by certified sky-high quality aluminium, worked with sophisticated CNC machinery.
Colourings obtained by the anodizing process give the product an effective protection against corrosion and, last, offer the possibility of choosing between a colourfullrange.
For children until shoe size 38.
Available in:
Colour: Black, Blue, Aluminium, Brown, Light Blue, Violet & Red.
Product variations in stock:
Product variations that are not in stock are generally available within a period of 1 to 3 days.
This price includes 21% VAT, possible discount and excludes delivery costs.