Tape » Gallagher TurboLine Tape 12.5mm 400m White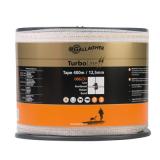 Other products by Gallagher:
Description
12,5mm TurboLine Tape. The horizontal wires are interconnected at 13 cm intervals ensuring better conductivity. 40 times more conductive than standard polytape. Ideal for portable electric fences. Post spacing up to 5m. 200m and 400m rolls. Always use TurboLine tape if fence > 500m.
Not in stock.
Product variations that are not in stock are generally available within a period of 1 to 3 days.
This price includes 21% VAT, possible discount and excludes delivery costs.