Tape » Gallagher TurboLine Tape 20mm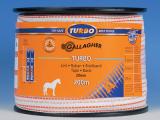 Other products by Gallagher:
Description
Turbo Tape with reinforced conducting edges (red) suitable for semi-permanent horse fencing. 40 times more conductive than standard polytape. Post spacing up to 6m. Always use Turbo products if fence > 600mtr
Available in:
Colour: Green-Red & White-Red.
Not in stock.
Product variations that are not in stock are generally available within a period of 1 to 3 days.
This price includes 21% VAT, possible discount and excludes delivery costs.