Tape » Gallagher TurboStar Tape 40mm 200m Green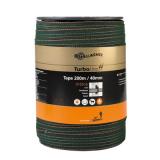 Other products by Gallagher:
Description
TurboStar Tape is a premium 40mm tape which has the lowest resistance available today. It has a 40 times better conduction than regular tape and will result in more power on your fence due to 10 stainless steel wires and 4 mixed metal wires. Post spacing up to 6m. The sturdy and breathable features prevent tensioning regularly. Available in green, terra and white on 200m rolls.
Not in stock.
Product variations that are not in stock are generally available within a period of 1 to 3 days.
This price includes 21% VAT, possible discount and excludes delivery costs.