Mains energizers » Gallagher M300 fence energizer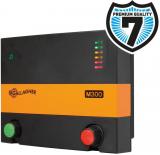 Other products by Gallagher:
Description
The M300 is a powerful mains
fence energizer
that is suitable for multi-wire fences up to a length of 25 km. The LCD display accurately indicates whether there is sufficient voltage on the fence. If there is not enough voltage on it, you will see that immediately.
The M300 is very easy to use, maintenance-free and has built-in lightning protection.
Suitable for fences up to 25 km
Fast performance check via green LED light
LED bar with performance display
Built-in lightning protection
Not in stock.
Product variations that are not in stock are generally available within a period of 1 to 3 days.
This price includes 21% VAT, possible discount and excludes delivery costs.