Tape » Gallagher TurboLine Corner/Strain Insulator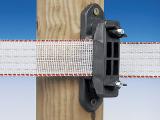 Other products by Gallagher:
Description
Specially designed corner insulator in high quality plastic which secures the tape between 2 rubber sleeves (patented system), guaranteeing a long life of your tape. Use the stainless steel connecting plate (Part No. 010745) for end (gate) posts to ensure good connection between tapes.
Not in stock.
Product variations that are not in stock are generally available within a period of 1 to 3 days.
This price includes 21% VAT, possible discount and excludes delivery costs.