Birth Alarm » Gallagher Birth Alarm Animal Cam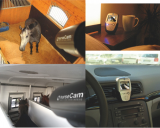 Other products by Gallagher:
Description
Bewakingscameraset Animal Cam 2,5"
Draadloze bewakingsset voor paarden in uw stal en/of uw trailer. HorseCam is een unieke bewakingsset voor paarden die bijvoorbeeld binnenkort moeten 'veulenen', of die tijdens het transport in uw trailer constant bewaakt moeten kunnen worden. Door de tweeledige gebruiksmogelijkheid in stal, respectievelijk uw trailer levert HorseCam u een universeel apparaat met een unieke reikwijdte tot 800 meter.
De Camera is waterdicht.
Not in stock.
Product variations that are not in stock are generally available within a period of 1 to 3 days.
This price includes 21% VAT, possible discount and excludes delivery costs.