Insect Repellents » Carr & Day & Martin Extra strength Insect Repellent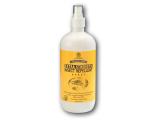 Other products by Carr & Day & Martin:
Description
• Powerful insect repellent; repels midges and all flying and biting insects effectively
• Extra strength formula contains an optimum level of 20% DEET for powerful, long-lasting protection
• Citronella-free
• Shake well and spray liberally onto the horse or apply with a cloth, taking care to avoid eyes and mucous membranes. If using for the first time, test on a small area of skin to establish suitability. Wash hands after use. Provides instant protection, apply twice daily for maximum protection. For total protection, use Insect Repellent Gel on sensitive areas
• 500ml will last 2-4 weeks, with frequent use
• Key ingredients: DEET (N,N-diethyl-m-toluamide)
Product variations in stock:
| Contents | Quantity |
| --- | --- |
| 500 ml | 1 |
Product variations that are not in stock are generally available within a period of 1 to 3 days.
This price includes 21% VAT, possible discount and excludes delivery costs.