First Aid » Horseware First Aid Kit - Emergency Kit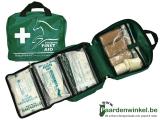 Other products by Horseware:
Description
Inhoud:
5 Wet Soap Tissue Wipes
10 Saline Cleansing Wipes
5 Alcohol Wipes
2 Latex Examination Gloves
1 Pair of Scissors
5 Cleaning Gauze Swabs
2 Large Gauze Pads
2 Self Adhesive Bandages
1 Cotton Self-Adhesive Bandage
2 Thick Non-Stick Bandages
1 Elastic Bandage
4 Instant Cold Packs
1 Mini Plaster Kit
Not in stock.
Product variations that are not in stock are generally available within a period of 1 to 3 days.
This price includes 21% VAT, possible discount and excludes delivery costs.