Tendon and Fetlock Boots » Professional's Choice Slide Tec Skid Boots Standard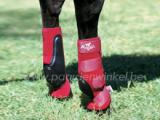 Other products by Professional's Choice:
Description
Slide-Tec™ Skid Boots were expressly created to fix the age-old problem of dirt inside the boots. We added a neoprene extension to cover the pastern and bulb of the horse's heel. This keeps dirt from penetrating the boot and causing burns during sliding stops or tight turns. Strong but flexible, the skid cup ensures the optimum protection of the fetlock and surrounding area. Our skid boots also feature a padded leather patch on the inside of the fetlock and cannon bone to protect from interference. The four-way elasticity of the limestone-based neoprene makes these boots comfortable and the hook fasteners make them adjustable so they fit almost any horse. Lined for comfort, the Slide-Tec™ Skid Boots come in a short boot that provides hind leg protection from the bulb to just above the fetlock and a standard boot, which provides approximately three more inches of protection up the cannon bone.
Available in:
Size: Standard.
Colour: Black.
Not in stock.
Product variations that are not in stock are generally available within a period of 1 to 3 days.
This price includes 21% VAT, possible discount and excludes delivery costs.