Riding Rugs » Bucas Shamrock Power Walker Rug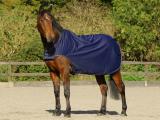 Description
Walker Rug from the Best Selling Shamrock Power Range.
Over Shoulder Design allows for free movement of shoulders
Comfort Front Pad protects entirely from front attachments
Rug features the same dual layer construction as the best selling Shamrock Power Multipurpose Rug with a Stay-Dry Wicking Lining
Lining also features a permanent Anti-Bacterial Treatment.
Product variations in stock:
Product variations that are not in stock are generally available within a period of 1 to 3 days.
This price includes 21% VAT, possible discount and excludes delivery costs.