Winter » Bucas Multi Power Turnout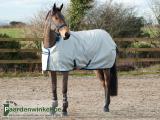 Description
Het Bucas Multi Power Deken is een combinatie van een lichte outdoordeken en een medium stal-, onderdeken.
Het deken biedt hiermee het gehele jaar door een passend deken voor uw paard in alle seizoenen. Door de combinatie van de Stay-Dry fleece voering en de warmtereflecterende aluminium buitenkant kan het buitendeken gebruikt worden bij zeer wisselende temperaturen. Het deken is perfect te gebruiken als zweetdeken. De Stay-Dry voering zorgt voor het vochttransport waardoor het paard snel droogt en droog blijft.
Het Click 'n Go sluitsysteem met gepatenteerde RVS gespen zorgt voor snel openen en sluiten van de voorsluiting. De schouderplooien geven extra schouderruimte en een perfecte pasvorm. Alle metalen delen zijn gemaakt van roestvrij staal. De warmtereflecterende aluminium coating reflecteert de zonnestralen om het paard bij opklaringen niet te verhitten.

- Buitendeken van ballistisch nylon.
- Waterdichte en ademende coating.
- Antibacteriële binnenvoering om je paard te beschermen en het deken fris te houden.
- Zachte, gladde nylon voering in de schouders waardoor schuurplekken voorkomen worden.
- Reflecterende strepen op staartflap en voorkant.
- Onderdeken met elastische kruissingels aan binnenkant.
- Elastische bilkoorden. Inclusief koord.
- Bevestigingspunten voor het apart te verkrijgen halsdeel.

- Turnout Light: Antibacteriële Stay-Dry fleece
- Onderdeken: Antibacteriële Stay-Dry fleece & 150 grams thermobonded polyester vulling.
Available in:
Size: 115, 120, 125, 130, 135, 140, 145, 155 & 165.
Extra: Without Neck Cover & With Neck Cover.
Not in stock.
Product variations that are not in stock are generally available within a period of 1 to 3 days.
This price includes 21% VAT, possible discount and excludes delivery costs.