Winter » Bucas Power Turnout All-in-One High Neck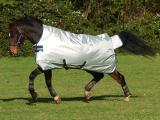 Description
The Power Turnout Range defines completely what it takes to earn the title of 'Ultimate Turnout Rug'. By combining advanced materials and a unique design, this turnout rug stands alone in delivering exactly what your horse needs! The Power Turnout Range have already changed the face of Turnout Rugs as we know it today - forever!
• The unique design gives an extra comfortable fit and ease of movement
• An ultra-tough, high tenacity nylon outer has a waterproof and breathable coating
• An inner aluminium coating actively prevents body heat loss during colder periods
• The outer silver colour actively reflects away unwanted solar heat from the horse, helping to avoid overheating during sunnier periods
• The Power Stay-Dry lining transports moisture away from the horse while remaining dry during the drying process, thereby avoiding unnecessary rug changes
• This lining has a permanent Antibacterial treatment
• An innovative front attachment system for comfort and ease of attachment
• 570g (14oz) of Power Stay-Dry lining and insulation
What size? What temperature?
Available in:
Size: 115, 120, 125, 130, 135, 140, 145, 155, 165 & 170.
Colour: Silver/Navy.
Product variations in stock:
| Size | Colour | Quantity |
| --- | --- | --- |
| 135 | Silver/Navy | 1 |
Product variations that are not in stock are generally available within a period of 1 to 3 days.
This price includes 21% VAT, possible discount and excludes delivery costs.