Girths » Bucas Galway All Purpose Girths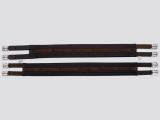 Description
Designed with comfort and function in mind, the Galway Girth enjoys many unique features, setting it apart from any other girth.
• It is designed with buckle to buckle webbing to spread the pressure across the full width of the horse's girth
• Made with soft non-chafing and durable fabric, it wicks moisture and stays dry during use
• Elastic versions of the Galway Girth
use top quality 3-layer elastics for
extra strength
• 10cm wide
• Galway girths are very easily maintained
Available in:
Size: 110 cm Brown.
Version: Super Elastic.
Product variations in stock:
| Size | Version | Quantity |
| --- | --- | --- |
| 110 cm Brown | Super Elastic | 1 |
Product variations that are not in stock are generally available within a period of 1 to 3 days.
This price includes 21% VAT, possible discount and excludes delivery costs.