Jumping » Pessoa Legacy XP Xchange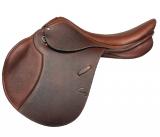 Other products by Pessoa:
Description
With Pessoa X-change system!
The Legacy range is a mixture of a sober and sophisticated style.
This range is designed to maximize the performance of the horse and the rider.
It offers Pessoa's classic close contact feel due to a semi-deep seat, ideal for a professional rider who demands precise legs position.
It outstands for its unique flap design with pre-molded knee rolls.
This type of knee rolls allow the saddle to be adjusted to the rider right from the beginning.
The AMS® panels are designed with a supplement that avoids an excessive pressure over the horse's shoulder.
The Legacy XP is the classic saddle from the Legacy range!
For riders who prefer a simple style.
It only has peripheral stitching and the same impressive benefits.
X-change system: Additional gullets can be easily interchanged to adjust for any horse.
Available in:
Size: 16 1/2 inch, 17 inch & 17 1/2 inch.
Colour: Oak Bark, Black & Tobacco.
Not in stock.
Product variations that are not in stock are generally available within a period of 1 to 3 days.
This price includes 21% VAT, possible discount and excludes delivery costs.