Stirrups » Wildkart Carat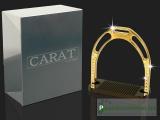 Other products by Wildkart:
Description
The Carat stirrup is an extreme Luxury product.
It is entirely gold plated with 24k with a thickness of 30 microns and decorated with authentic SWAROVSKI® ELEMENTS
This is a precious luxury gift for a great Rider.
It's design is similar to the Jin Stirrup.
Not in stock.
Product variations that are not in stock are generally available within a period of 1 to 3 days.
Choose the quantity:
€825.95
Price: €792.91
General Reduction:
- 4% starting at €500.00
- 8% starting at €1,000.00

This price includes 21% VAT, possible discount and excludes delivery costs.