Earthing » Gallagher Earthing Pen 0,5m + Cable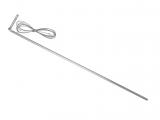 Other products by Gallagher:
Description
Without a proper Earth System your energizer does not perform. Always use galvanised earth stakes. To improve the earthing of Dry-cell battery-units use the 0,5m stake and it's 5m of wire.
Not in stock.
Product variations that are not in stock are generally available within a period of 1 to 3 days.
This price includes 21% VAT, possible discount and excludes delivery costs.