Off-set » Gallagher Offset Screw-in Insulator XDI (100)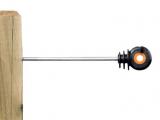 Other products by Gallagher:
Description
Much stronger than the standard offset screw insulator thanks to a new technique, and more durable thanks to its metal core. The orange plastic section serves as a wear indicator. To be used with wooden posts.
Not in stock.
Product variations that are not in stock are generally available within a period of 1 to 3 days.
This price includes 21% VAT, possible discount and excludes delivery costs.