Tape » Gallagher TurboLine Horse Tape Insulator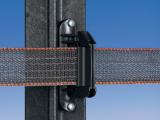 Other products by Gallagher:
Description
The only insulator with soft faces to lock the tape between two rubber sleeves (patented system) to prevent wear. Guaranteeing a long life for your tape.
Not in stock.
Product variations that are not in stock are generally available within a period of 1 to 3 days.
This price includes 21% VAT, possible discount and excludes delivery costs.