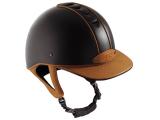 Description
The GPA Highlite Carbon helmets, with safety in mind.
The best from the Swiss firm is the Highlite, an "all carbon" hardhat that approaches perfection.
Optimum safety + minimum weight + maximum comfort. The GPA engineers have succeeded in adding them up brilliantly in the innovated Highlite hard hat
The fine leather finish is equal to the technology, perfect
The Oval badges on the front of the GPA hard hats in all colours, distributed in Europe bear the GPA/Pikeur brand
Outer shell in composite(woven carbon fibres and epoxy resin) protected with a varnish finish
Front vertical band is also carbon(composite material identical to the outer shell) A series of 3 large airholes for ventilation(An exclusive patened system) Equipped with a peripheral finishing ring in coloured leather
Shock absorbing inner shell
The relationship of the inner shell to the outer shell form the ideal proportions, contributing to a perfect esthetic harmony for all head shapes and sizes
Rear band and ear flaps in soft leather stitched onto polyethylene foam
Adjustable anatomically-designed chin strap secured at 4 points(including 2 side rivets) Equipped with a rapid, Dual lock self-locking buckle and a shock absorbing finished foam cover
Interior lined with anti perspiration fabric
The GPA signature(or GPA/Pikeur brand for hats distributed in Europe) stamped on an oval badge on the front and on the rear band certifies the hard hats authenticity
On the back: 2 side vents for the evacuation of air
Available in:
Size: 52, 53, 54, 55, 56, 57, 58, 59, 60, 61, 62 & 63.
Colour: Camel, Chestnut, Slate Grey & Black.
Model: Matte & Gloss.
Not in stock.
Product variations that are not in stock are generally available within a period of 1 to 3 days.
This price includes 21% VAT, possible discount and excludes delivery costs.