Drinking Bowls » Horizont AGRAR Drinking Bowl Idéal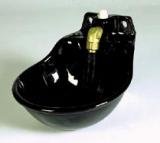 Other products by Horizont AGRAR:
Description
For cattle, calves and horses. Enamel cast
bowl with smooth pipe valve for quiet water
supply. For high and low pressure 1/2"
mains water supply from top or bottom. For
pipe or wall mounting. Approximate water
flow quantity of 6 litres/min at 5 bar water pressure.

Not in stock.
Product variations that are not in stock are generally available within a period of 1 to 3 days.
This price includes 21% VAT, possible discount and excludes delivery costs.