Halters » Bucas Dublin Foal Halter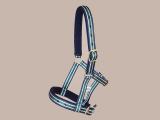 Description
Available in a variety of colours, the Dublin Halter delivers both luxury and function to your horse.
All Dublin Halters are available with matching Dublin Leads.
Available in:
Colour: Striped Navy, Navy/Green, Navy/Navy, Silver/Navy, Brown/Brown, Black/Black & Camel/Brown.
Not in stock.
Product variations that are not in stock are generally available within a period of 1 to 3 days.
This price includes 21% VAT, possible discount and excludes delivery costs.