Mid Season » Horseware Rambo Supreme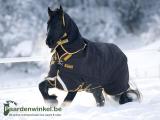 Other products by Horseware:
Description
Waterproof and Breathable
Removable Hood which is easy to fit with strong, Velcro fastenings and allows you effortlessly adjust your Supreme according to your horse's needs
Available in a Superwarm heavy weight- contains 420g of fibrefill and 100g in the neck for those really wintry days. Also available in medium (200g) and lightweight (0g) versions.
Patented 'V' front closure and reflective strips for added safety.
Unique Rambo Leg Arches™ allow the extra depth of the rug to wrap around the horses shape for extra protection without restricting movement
Surefit™ Neck Design gives your horse the best possiblefit and accommodates all shapes and sizes.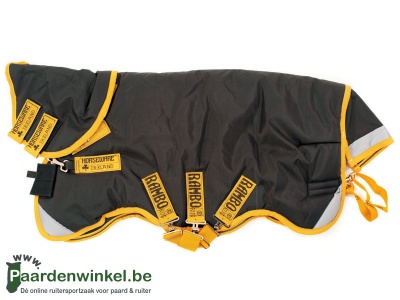 Available in:
Size: 5'0, 5'3, 5'6, 5'9, 6'0, 6'3, 6'6, 6'9, 7'0 & 7'3.
Type: Lite Black/Gold, Medium Black & Heavy Black/Gold.
Product variations in stock:
| Size | Type | Quantity |
| --- | --- | --- |
| 6'3 | Heavy Black/Gold | 1 |
| 6'6 | Medium Black | 1 |
Product variations that are not in stock are generally available within a period of 1 to 3 days.
This price includes 21% VAT, possible discount and excludes delivery costs.