Testers » Gallagher Neontester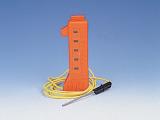 Other products by Gallagher:
Description
A convenient tool for checking whether there is sufficient voltage at the electric fence. Not suitable to check earth systems.
Not in stock.
Product variations that are not in stock are generally available within a period of 1 to 3 days.
This price includes 21% VAT, possible discount and excludes delivery costs.