Mobile » Gallagher Horse Post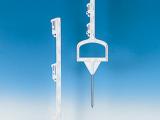 Other products by Gallagher:
Description
Unique and durable post, 1.55m high, which is ideal for semi-permanent horse fencing. Easy to tread by using the convenient stirrup foot. 11 numbered lugs suitable for tape up to 20mm, rope and polywire. The unique twist 'n lock system guarantees a simple and secure attachment of the conductors up to 1.35m high.
Not in stock.
Product variations that are not in stock are generally available within a period of 1 to 3 days.
This price includes 21% VAT, possible discount and excludes delivery costs.