Tape » Gallagher PowerLine Tape 12,5 mm White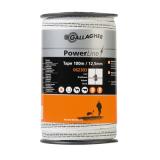 Other products by Gallagher:
Description
Strong, 12.5mm PowerLine Tape with 5 thick stainless steel wires for good conductivity. Suitable for portable fences for cattle, young stock and horses. Post spacing up to 5m.
Not in stock.
Product variations that are not in stock are generally available within a period of 1 to 3 days.
This price includes 21% VAT, possible discount and excludes delivery costs.