Earthing » Gallagher Bentonite Super Earthing Mix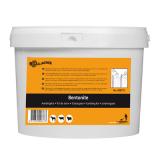 Other products by Gallagher:
Description
Earthing can be achieved simply and quickly with this mix, even in extremely dry conditions. The mixture of salt and absorbent clay retains moisture and increases the conductivity of the surrounding soil. To be used in poor earthing conditions and in combination with more powerfull energizers. Excl. earth stake.
Not in stock.
Product variations that are not in stock are generally available within a period of 1 to 3 days.
This price includes 21% VAT, possible discount and excludes delivery costs.