Off-set » Gallagher XDI Offset Insulator 18 m Curved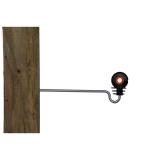 Other products by Gallagher:
Description
High quality offset insulator (20cm) with metal core, helps prevent damage to non-electric fences. The orange ring guarantees an equal distance between the insulator and the conductor. Suitable for (poly) wire or cord.
Not in stock.
Product variations that are not in stock are generally available within a period of 1 to 3 days.
This price includes 21% VAT, possible discount and excludes delivery costs.