Tape » Gallagher Plate tape end strain insulator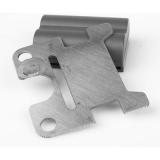 Other products by Gallagher:
Description
The new very innovative robust Corner Insulator. Has a lot of advantages compared to the traditional insulators. A unique subframe for optimal strength and fixation at the post. Pre mounted rubber grip for best tape fixation. Can be installed with only one drill bit. A unique slot to strain and re-strain your tape. The optional metal plate (art. 708027) can be used as a tape connector and gate anchor.
Not in stock.
Product variations that are not in stock are generally available within a period of 1 to 3 days.
This price includes 21% VAT, possible discount and excludes delivery costs.