Accessories » Gallagher Battery 12V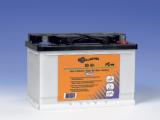 Other products by Gallagher:
Description
Deep cycle batteries. The 25AH battery can be used in 9V battery energizers. Ideal for use with 12V battery powered energizers. We recommend the 85Ah battery when used in combination with solar panels.
Available in:
Type: 25Ah, 65Ah, 85Ah & 105Ah.
Not in stock.
Product variations that are not in stock are generally available within a period of 1 to 3 days.
This price includes 21% VAT, possible discount and excludes delivery costs.