Coat Care » Carr & Day & Martin Canter Coat Shine Wipes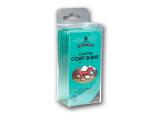 Other products by Carr & Day & Martin:
Description
Instant shine in a convenient one-use wipe. Individual sachets are the quick and clever way to add last minute sheen at shows.
Individual and convenient, single-use impregnated wipe provides an instant sheen
Conditions the coat and helps repel grass stains, mud and soiling of the coat, makinggrooming easier
Provides an oil-free shine; does not make the coat greasy
Handy for shows
Remove wipe from individual sachet and fully unfold. Wipe over the coat as required using both sides of the wipe, for immediate results
Key ingredients: silicone shine agent, citronella scent
15 Wipes
Quantity in stock: 5
Product variations that are not in stock are generally available within a period of 1 to 3 days.
Choose the quantity:
Price: €12.00
General Reduction:
- 4% starting at €500.00
- 8% starting at €1,000.00

This price includes 21% VAT, possible discount and excludes delivery costs.